Hi all! I hope everyone enjoyed their weekend, especially with this lovely weather!! The sun is shining and the weather is warm, I am in love with summer. I think I can bask in it forever haha I should perhaps think about living in a warm state, California? :D Anyways, I had a new batch of circle lens come in yesterday and I couldn't wait until I got to try them so here is one of five new lens! The Geo Xtra Nudy Grey... my first pair of circle lens were Geo Nudy and I have been in love with them. So I thought, Xtra Nudy? They must be extra bright and extra big! Well, that is only half true :(
(I will be uploading a picture of how they look in my lens case later)
With Flash
Without Flash
Without Flash, Closeup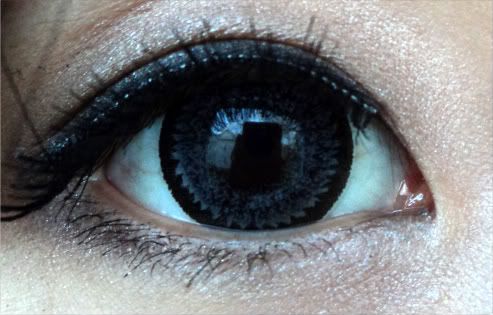 I'm sorry about the lashes, haha I was in a rush and didn't have enough time to cover them up just yet when I took the pictures :( BUT I will have to say, these might be my new favorite lashes and perhaps an everyday pair :D It is so easy to put on! Okay, anyways, moving on to Geo Xtra Nudy in Grey...
Usage Modality:
Yearly Disposable
BC:
8.6 mm
DIA:
14.8 mm
Water content:
38%
Comfort - 5/5
I barely remember that I have the lens on! They are so comfortable and they just fit right into my eyes... They have the same water content as Geo Bambi lens.. which I'm also in love with!
Enlargement - 5/5
They make my eyes BIG! Because it is the XTRA nudy grey, they are bigger in diameter by .8mm and it most definitely shows! However, I had in my mind that it might be lighter but it wasn't.. for some reason, it felt like it was darker instead. However, the black ring is much more darker and more apparent.. which might be the reason why the enlargement effect is so apparent!
Color/design
- 3/5
I only gave these lens 3 out of 5 because I didn't really like the color being dark... I like a natural yet bright grey and this didn't really cut it for me. The colors didn't show indoors, but with the flash, it was apparent. The design are the same as the Geo Nudy, though everything is EXTRA apparent.
Overall
- 4/5
I like this pair overall, because of the enlargement and the comfort. My friend thought I looked like a schoolgirl because of my lens... though it might also be my false lashes. However, they definitely did make my eyes more doe-like.
I would recommend this lens to someone who wants BIG, doe-like eyes, but not so apparent grey lens.
FOTD!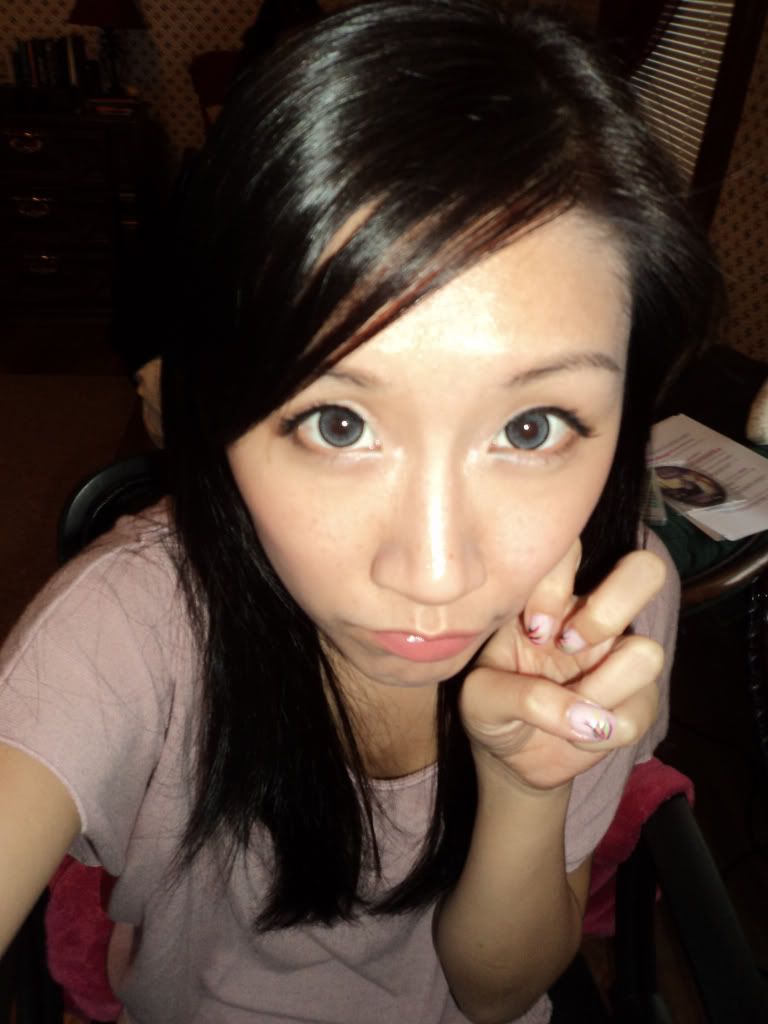 Haha.. I was messing around :x
So like I promised, I added how it looks in person and not just close-ups of my eye. Also, this serves as my FOTD!
Products used:
Eyes
- Too Faced Shadow Insurance
- UD eyeshadow in Sin, Virgin, Buck, and Darkhorse
- MAC fluidline in Blacktrack
- Ardell lash in 131
- Geo Xtra Nudy in Grey
Face
- Bare Escentuals face primer
- Super+ BB Triple Functions
- Physicians Formula Face powder
- Bobbi Brown Pot Rouge for lips and cheeks in Powder Pink
- Benefit Dandelion
Lips
- Bobbi Brown Pot Rouge for lips and cheeks in Powder Pink
- NARS lipgloss in Chihuahua
Brows
- Anastasia brow kit
Love and Kisses,